FOR IMMEDIATE RELEASE
June 9, 2023
CONTACT: Scott Heiberger
Heiberger.scott@marshfieldresearch.org
715-207-1604
Grants up to $25,000 available to address emerging issues in childhood agricultural health – letters of intent due June 30
The National Children's Center for Rural and Agricultural Health and Safety is pleased to announce the Request for Applications (RFA) for grants addressing emerging issues in childhood agricultural health. With grants of up to $25,000, the RFA aims to support innovative projects and pilot studies that address the impact of current challenges such as climate change, technology advancements, and underserved populations on childhood agricultural disease prevention and injury mitigation.
Applicants must submit a one-page letter of intent by June 30, 2023, including the project goals, objectives, and key personnel. If the project concept is deemed meritorious, the applicant will be invited to submit a full proposal. Letters of intent should be sent to nccrahs@marshfieldresearch.org.
Applicants may request up to $25,000 for research studies and up to $15,000 for non-research or outreach projects. The funding amount available will depend on the submissions from eligible applicants. Project proposals should provide an explanation of the burden, need, and potential impact. Projects should respond to a clear burden, address specific emerging needs, and have the potential for measurable impacts and outputs.
Eligible applicants for project support include community-based organizations, public or private institutions, units of local or state government, or tribal governments throughout the United States. Collaboration with National Institute for Occupational Safety and Health Agricultural Research Centers or universities is encouraged for project design and evaluation, when applicable.
Priority topics for funding consideration include:
Impact on people who are at an increased risk for agricultural health and safety concerns and currently underserved by research and prevention materials.
Public/organizational policies that safeguard youth in agriculture.
Leveraging existing National Children's Center resources or materials (e.g., AgInjuryNews, Youth Work Guidelines, Agritourism safety materials, Child Ag Safety & Health Workshops) and/or networks (e.g., Childhood Agricultural Safety Network).
Full proposals, due by August 15, 2023, must include all specified sections outlined in the application guidelines. Applicants unfamiliar with Centers for Disease Control and Prevention/National Institutes of Health-style applications may receive assistance from a National Children's Center faculty member.
For more information, visit https://marshfieldresearch.org/nccrahs/emerging-issues-grants
The Emerging Issues Program of the National Children's Center explores emerging health and safety concerns affecting children (under the age of 18) working on, living in, or visiting agricultural environments. The program seeks to identify causes, effects, and prevention interventions for new or unresolved/complex problems. It aims to support projects that document, intervene, and explore challenges faced by children in and around agricultural settings where limited knowledge is currently available.
###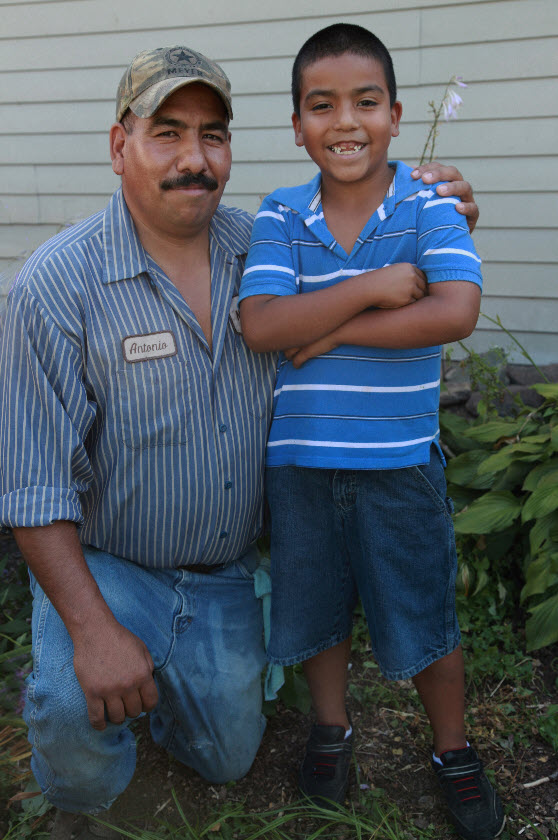 Hispanic Farmer and His Son (.jpg)
Image taken by Earl Dotter
Display in Latest News: Yes