Clinical Medicine & Research is a peer-reviewed journal of original medical research relevant to a broad audience of medical researchers and health care professionals. Clinical Medicine & Research is owned and published by Marshfield Clinic Health System, and is edited within Marshfield Clinic Research Institute.
Current Indexing and Archiving
US National Library of Medicine's Index Medicus/MEDLINE (PubMed) database, EMBASE, Scopus, EBSCOhost EJS, Chemical Abstracts Service (CAS), Cumulative Index of Nursing and Allied Health Literature (CINAHL) database, Emerging Sources Citation Index, Index Copernicus, PubMed Central, PubMed Central International, and the Directory of Open Access Journals.
Impact
Clinical Medicine & Research has an H index of 47 (2019), an SJR of 0.609 (2018) with a 2-year Cites per Doc of 1.794 (2018). Please visit Scimago's page for Clinical Medicine & Research to learn more about the definition of these journal measures of scientific influence.
Ethics Statement
Clinical Medicine & Research follows the International Committee of Medical Journal Editors' (ICMJE) Recommendations for the Conduct, Reporting, Editing, and Publication of Scholarly Work in Medical Journals, the Council of Science Editors' (CSE) White Paper on Promoting Integrity in Scientific Journal Publications, and the Committee on Publication Ethics' (COPE) Core Practices for Promoting Integrity in Research and Its Publication guidance for editors, reviewers, and authors.
Data Privacy Policy
The Clinical Medicine & Research data privacy policy for authors and reviewers is available to view/download here: Data Privacy Policy.
Volume 20, Number 3
September 2022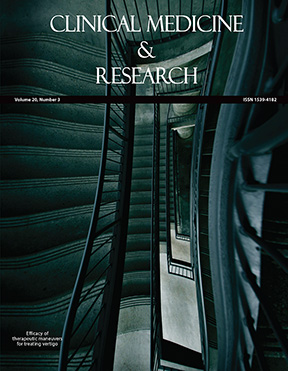 Access
Full-text articles and abstracts are available from the Clinical Medicine & Research web site, and the journal's PubMed Central digital archive.
Manuscript submission
Articles must be submitted using the journal's online manuscript submission system, Editorial Manager.
Editorial Office
Marshfield Clinic Research Institute
1000 North Oak Avenue (ML9)
Marshfield, WI 54449
Email: clinmedres@marshfieldresearch.org
Editor-in-Chief
Adedayo A. Onitilo, MD, PhD, MSCR, FACP
Marshfield Clinic
Weston, WI USA
Senior Editor
Sherry A. Salzman Scott, MS
Marshfield Clinic Research Institute
Marshfield, Wisconsin USA
Associate Editors
Jamiu O. Busari, MD, PhD, MHPE
Zuyderland Medical Center
Heerleen, The Netherlands
Rohit Sharma, MD, FACS
Marshfield Clinic
Marshfield, Wisconsin USA
Board Members
Kelley P. Anderson, MD
Marshfield Clinic
Marshfield, Wisconsin USA
Erin G. Brooks, MD
University of Wisconsin School of Medicine & Public Health
Madison, Wisconsin USA
Deanna S. Cross, PhD
University of North Texas Health Sciences Center
Fort Worth, Texas USA
Suhail A.R. Doi, MBBS, FRCP, PhD
Qatar University
Doha, Qatar
Jessica M. Engel, DNP, RN
Marshfield Clinic Cancer Services
Stevens Point, Wisconsin USA
David D. Gutterman, MD
Medical College of Wisconsin
Milwaukee, Wisconsin USA
Abel N. Kho, MD, MSc
Northwestern University
Chicago, Illinois USA
John Lazarchick, MD
Medical University of South Carolina
Charleston, South Carolina USA
Michael S. Pulia, MD, FACEP, FAAEM
University of Wisconsin School of Medicine & Public Health
Madison, Wisconsin USA
Marc H. Scheetz, PharmD, MSc, BCPS AQ-ID
Northwestern Memorial Hospital
Chicago, Illinois USA
Kit N. Simpson, DrPH
Medical University of South Carolina
Charleston, South Carolina USA
Editor Emeriti
Richard Dart, MD (Chief Editor, 2003-2006)
Marshfield Clinic
Marshfield, WI USA
Kurt D. Reed, MD, MGIS (Chief Editor, 2007-2014)
University of Wisconsin School of Medicine & Public Health
Madison, WI USA