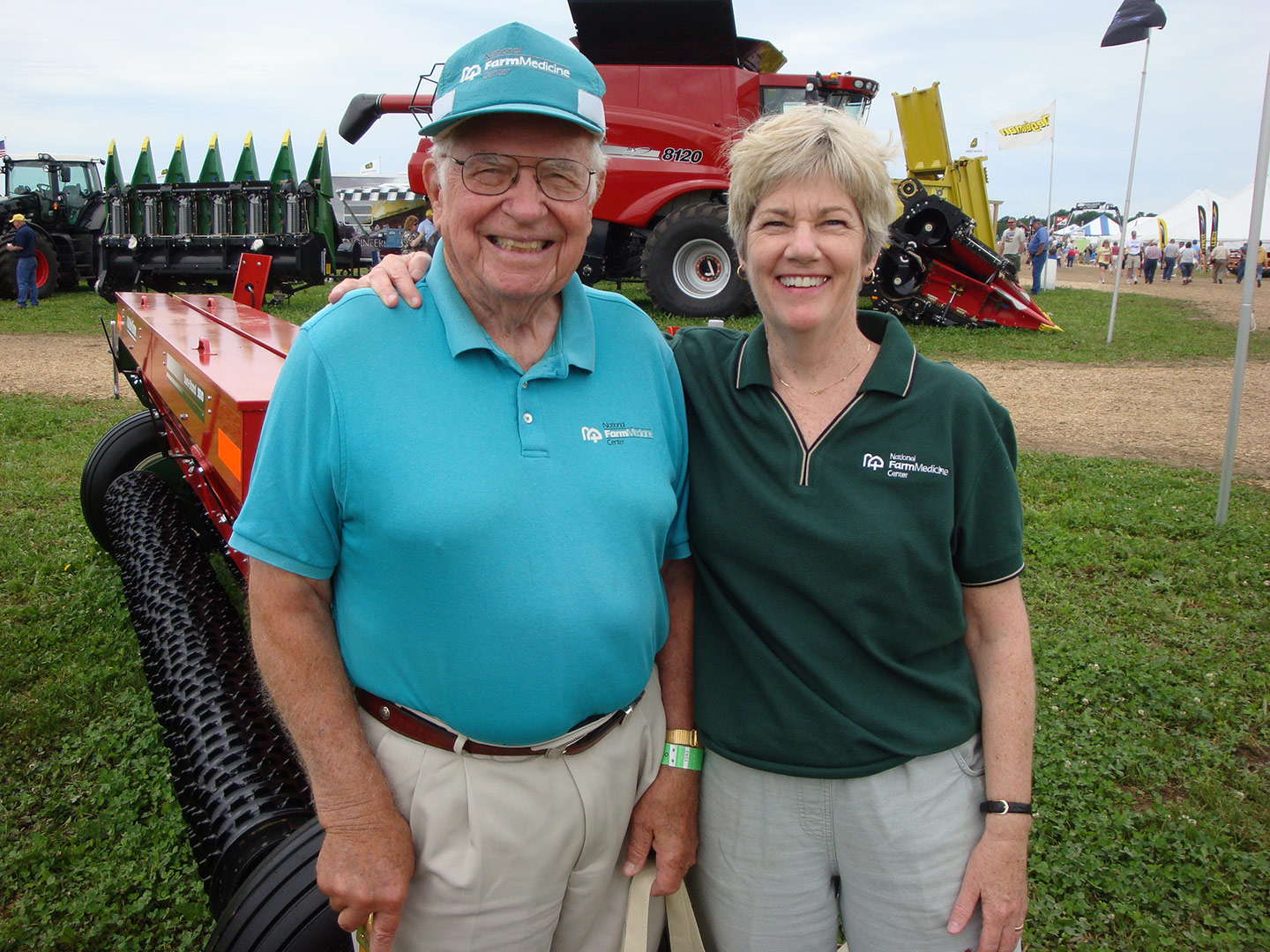 National Farm Medicine Center turns 40
Marshfield center dedicated to health and happiness of farm owners, families and workers.
Above the late Dean Emanuel, M.D., and Barbara Lee, Ph.D., at 2011 Wisconsin Farm Technology Days.
Welcome to the National Farm Medicine Center, where we apply research to help ensure the success of every type of agricultural operation.
Whether you are a researcher, safety and health professional, or anyone who works with people involved in production agriculture, you will find resources and information on this website that can help prevent injuries in one of our most hazardous industries. This website also highlights ongoing research projects and resulting outcomes and services.
Our scientists and staff focus on injury prevention, injury surveillance, community outreach and education, the farm microbiome and human immunology, evaluation of programs, and mental well-being. Visit our sister website, CultivateSafety.org, for more resources and information on safety strategies and resources for producers, farm families and media.
---
National Farm Medicine Center - Marshfield Clinic Research Institute
Research Scientist
Job Summary
The Research Scientist in this open rank tenure track position maintains and conducts a high quality research program, relevant to the area of agricultural health and safety, rural health, and or environmental/occupational health, assisting NFMC in achieving the organizational goals and results within the Marshfield Clinic Research Institute (MCRI). This scientist or clinician-scientist should maintain a strong and consistent record of scientific discovery and he/she will secure externally funded research awards, collaborate with scientists and clinician investigators, and implement translation of their research throughout Marshfield Clinic Health System (MCHS) and beyond. Remote working conditions will be considered for especially qualified and experienced candidates.
Find more information here
National Farm Medicine Center - Marshfield Clinic Research Institute
Research Specialist
Job Summary
The Research Specialist is responsible for carrying out activities and completing tasks as assigned by the investigators and Administrator/Manager. Many of these assignments will have an emphasis on quantitative and qualitative data collection, translational efforts. This individual will collaborate with other Center staff on projects as assigned and be responsible for assistance with analysis of research data and communication of research results.
This position will work with Dr. Florence Becot in Marshfield Clinic Research Institute's National Farm Medicine Center (NFMC). Assignments will be grounded in social theories and rural social science literature (i.e. connected to the sociology of food and agriculture including the social and economic needs of farm families, agricultural health and safety, rural community infrastructures such as health care and childcare, and agricultural and social policies), will have an emphasis on the use of primary qualitative and quantitative data including comparative research study designs, and will include translational efforts.
Find more information here.
The Cultivate Safety website provides easy access to agricultural safety information and resources for farmers, ranchers, supervisors and media.

---