Augmented Reality and Farm Safety
Farm Mapping to Assist, Protect and Prepare Emergency Responders (Farm MAPPER) is an interactive, device-agnostic, web-based prototype developed by the National Farm Medicine Center (NFMC) that provides emergency responders onsite information about hazards, resources and physical layouts of agricultural operations. This project will incorporate Augmented Reality (AR) into the existing Farm MAPPER display.
Farm MAPPER displays map icons representing items important in emergency events such as hazards, access points, water sources, etc. After the farmer/user drops icons onto their farm map, the information is accessible to emergency responders in the fire station or en route by smartphone/tablet. This knowledge assists responders to efficiently and safely respond to farm emergencies. Integrating another visual layer of technology would provide real-time, on-site mixed reality information to responders to potentially improve situational awareness, efficiency and safety during the emergency response.
Using a smart phone or tablet, Farm MAPPER is presently viewed as a static overhead view of the farm with icons indicating the locations of hazards, needed resources, farm entry point resources, etc. AR creates the opportunity to present both a bird's-eye view of the farm and also a realtime depiction of icons superimposed on a real vision of the farm location. The added information made available through an AR depiction and the heads-up orientation may offer substantial advantages and is the research question to be addressed by future projects. We believe that adding AR as a viewing technology to Farm MAPPER will speed emergency response and improve first responder safety and response efficiency. We expect the marriage of MAPPER and AR will reduce responder injury, expedite victim rescue, and enhance structure protection.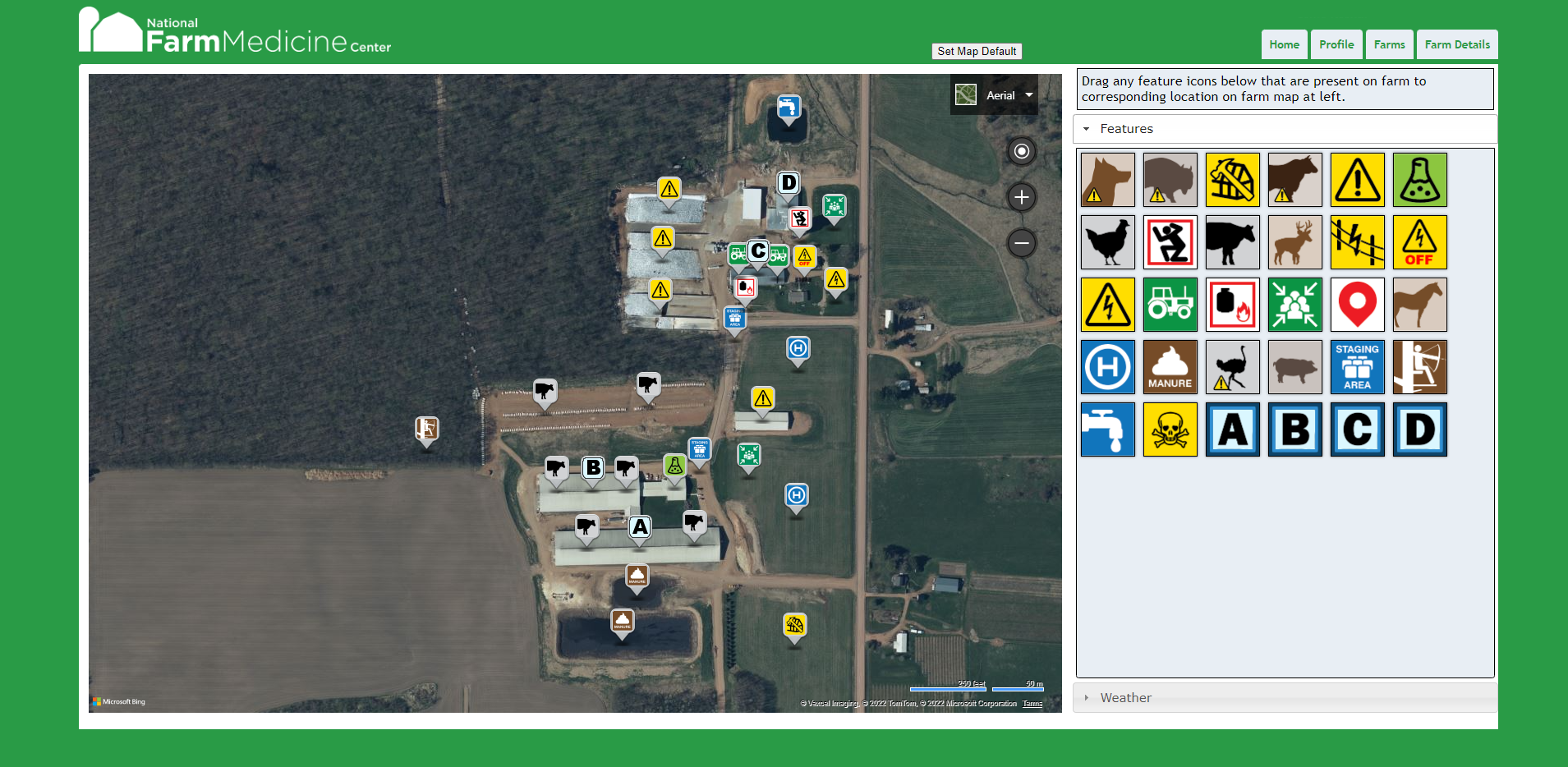 2012 Version of Farm MAPPER
The project developed model systems for farmers to input data such as locations of chemicals, solvents, fuels and other hazards, where power and gas cut-off valves and water sources are and where farming operations occur. These data will be linked to QR tags attached to easily accessible sites, where emergency responders may read them. This will assist in fighting a fire or rescuing a victim while permitting emergency responders to avoid injury from explosions, chemicals, electrical or other on farm hazards. The Marshfield Biomedical Informatics Research Center (BIRC) developed the secure online system for farm data storage. BIRC houses a Computer Usability Laboratory at the Marshfield Clinic Research Foundation and has the capacity to test and improve the functionality of the data collection interface. The National Farm Medicine Center worked with the Pittsville Fire department to test the usability of this system by first responders.
This project is one of a suite of projects designed to to be a great advantage in rural and agricultural health and safety settings. Following this proof of concept project, using funding from other sources, we will explore the ability and willingness of farmers to list their larger equipment, and will develop a controlled trial which will compare the efficacy of two or three methods for recruiting farmer participation in farm map preparation and will improve on the tools developed by the pilot project.
This video describes how Farm MAPPER works.
To set up your farm, visit the farm MAPPER website http://www.nfmcfarmmapper.com/Account/LogOn.
For more information about the Farm MAPPER project, please contact Kyle Koshalek at koshalek.kyle@marshfieldresearch.org or at 715-389-3786.