Marshfield Clinic's human research protection program has earned national recognition for its commitment to protect research participants.
The Clinic was accredited by the Association for the Accreditation of Human Research Protection Programs, Inc. (AAHRPP), which promotes high-quality research through an accreditation process that helps organizations worldwide strengthen human research protection programs.
This accreditation demonstrates Marshfield Clinic Research Foundation (MCRF) strengthened protections for research participants, which helps build public trust and confidence in research.
AAHRPP accreditation is considered the gold standard for quality research programs. All major U.S. independent institutional review boards (IRB) are AAHRPP accredited. More than 60 percent of U.S. research-intensive universities and 65 percent of U.S. medical schools are either AAHRPP accredited or have begun the accreditation process.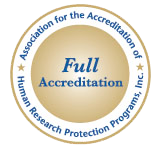 "Accreditation demonstrates our ongoing commitment to human subjects' protections and quality in research," said Steve Ziemba, PhD, MCRF associate director. "It also raises our national profile and makes the Clinic a more attractive option for clinical trials and research."
The process began more than two years ago after the University of Wisconsin and the Medical College of Wisconsin, which partners with MCRF on numerous research projects, received accreditation.
"We saw their programs go through the process and recognized the value they received," said Linda Jaros, Clinic research compliance officer. "We knew our program was of high quality and a candidate for accreditation so we committed to the process."
MCRF conducted a thorough review of policies and procedures and submitted more than 500 pages that detailed quality measures and other requirements. An AAHRPP site visit last fall further documented the Clinic's commitment to quality improvement.
Lori Scheller, MCRF IRB administrator, said federal regulation guidelines are considered a baseline for compliance. Accreditation has a higher level of compliance.
"Sponsors for medical device manufacturers and pharmaceutical companies look for an organization or research program doing human research trials above and beyond federal regulations," Scheller said. "This gives us a competitive advantage when pharmaceutical sponsors are looking for trial sites. They know we run quality research programs."
Some of the Clinic's research collaborations require data and specimen sharing among accredited institutions. This ensures privacy, data protection, and bio-banking meet high standards and demonstrates a built-in trust between institutions.