Dental Caries and School-Based Sealant Program:
Tooth decay is a preventable condition. However, it is the single most common childhood disease. The U.S. Surgeon General reported in 1996 that more than half of youth ages 5-17 years in the US had dental caries, making dental caries more than 5 times more common than asthma, and 7 times more common than hay fever. As a child's first tooth erupts, the American Dental Association urges parents and guardians to consult with their dentist regarding scheduling the child's first dental visit and receiving oral health education based on the child's developmental needs.
Sealant application is considered an evidence-based, preventive strategy to minimize tooth decay among children. A previous U.S. Surgeon General's report on oral health indicates that sealants can reduce decay in school children by more than 70 percent. School-based sealant programs (SBSPs) target schools that serve children from low-income families and focus on sealing newly erupted permanent molars, thereby reducing caries in children.
The State of Wisconsin with strong support from the Delta Dental of Wisconsin has been a national model for the implementation and success of such SBSPs in the nation.
What is DentaSeal Software About?
Most SBSP collect examination, service, and follow-up data using a paper form which can vary slightly from state to state. This data is then entered into an Excel-based application known as Sealant Efficiency Assessment for Locals and States (SEALS) developed by Center for Disease Control and Prevention (CDC) for each hosting facility. At the end of the school year the program administrator/s run a series of macros from the Excel-based application to create reports that covers several annual outcome (types and numbers of services delivered at school events) as well as program costs and logistics of events, e.g., personnel, equipment, materials, and travel.
In late 2013, Delta Dental of Wisconsin funded Marshfield Clinic Research Institute to design a state-of-the-art software application that can overcome some of the limitations of using excel based application as well as moving away from collecting data on paper forms. Project goals included:
Achieving an user-centric design in the software that would be built;
Supporting various workflows for programs across the state of Wisconsin and beyond;
Facilitating accurate and improved reporting;
Making the new application available to other interested parties through a licensing fee/contract mechanism.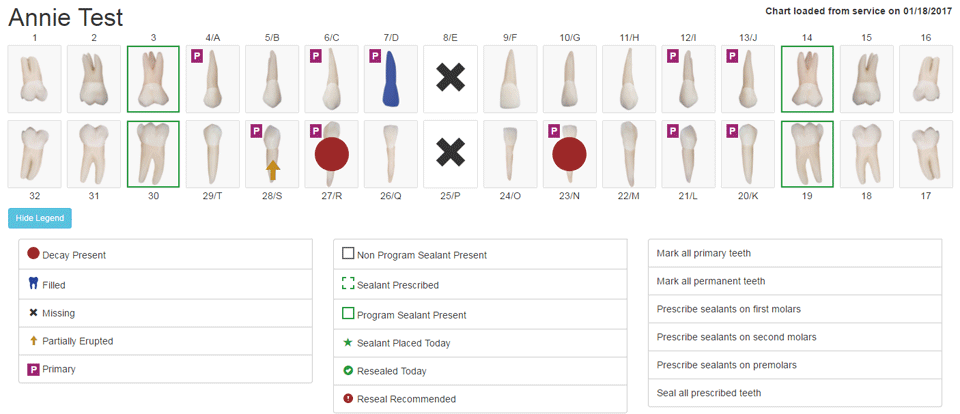 Screenshot of DentaSeal Service Page
DentaSeal is the outcome of this funded initiative targeted towards the SBSP. DentaSeal was developed to help improve the data collection and reporting functionality that exists in the CDC SEALS application. DentaSeal is:
A secure web-based dental sealant registry used to capture, evaluate and track effectiveness and efficiency of SBSPs across multiple years;
An intuitive data capture tool that provides the end users the ability to accurately collect /look up a child's oral health/dental sealant information. The users can chart decay, missing teeth, sealants, etc. which is stored in the service history;
A real time reporting tool that provides support for querying useful information at any time during the school year as well as end-of-year reports;
A secure registry to store site/school level, program level as well as state level SBSP data;
Also include reporting, user management, storage of schools and programs, visit management, and inventory management which include depreciation calculations;
Currently used by the Wisconsin Seal-A-Smile SBSP to capture and manage the information for approximately 50,000 children;
Around 100,000 transaction in the 2015-16 school year.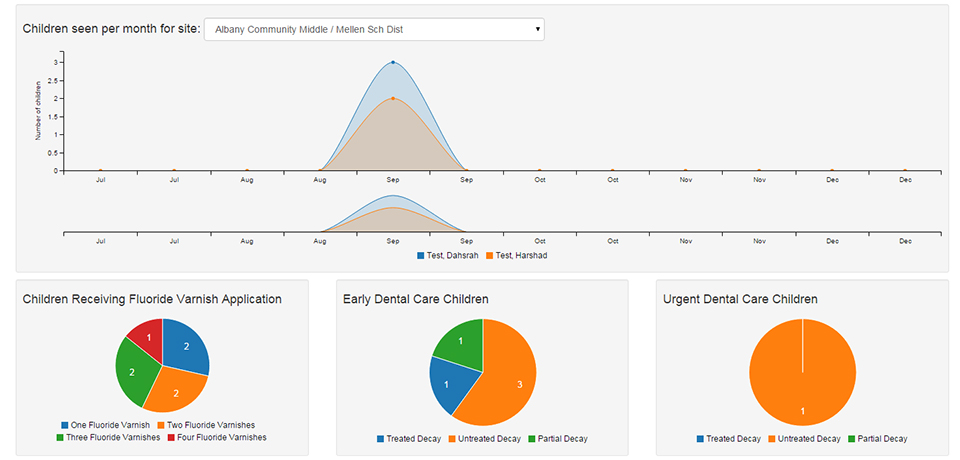 Screenshot of DentaSeal Dashboard Page
Presentation and Publications:
Acharya A and Verhagen L, 'The New and Improved SEALS Software', 2015 Seal-A-Smile Annual Meeting, Stevens Point, Wisconsin, May 16th, 2014;
Acharya A, 'DentaSeal: An Intuitive Data-Collection Tool to Support School-Based Dental Sealant Programs', American Association for Community Dental Program, 2015 Annual Symposium, Kansas City, Missouri, April 26th, 2015;
Crespin M, Kuester R, Acharya A, DentaSeal: Online data collection for school-based dental sealant programs, 2015 National Oral Health Conference, Kansas City, Missouri, April 27, 2015;
Ray W, Steinmetz A, Hegde H, Halstead S, Baker K, Shimpi N, Acharya A, DentaSeal: A Web-Based Application For Wisconsin Seal-A-Smile Program, 2016 AADR/CADR Annual Meeting, Los Angeles, CA, March 16-19, 2016;
Steinmetz A, Thomas K, Ray W, Hegde H, Halstead S, Shimpi N, Acharya A, User-Centered Approach For Developing Web-based Dental Sealant Registry Called 'DentaSeal', 2016 AADR/CADR Annual Meeting, Los Angeles, CA, March 16-19, 2016
Current Project Team:
Amit Acharya, BDS, MS, PhD, Program Director
Dixie Schroeder, MBA, Project Coordinator
Annie Steinmetz, BS, PMP, Project Manager
Shaun Halstead, BS, Database Administrator
Harshad Hegde, BE, MS, Programmer Analyst

Acknowledgement
This project was supported in part through funds from Delta Dental of Wisconsin and the Marshfield Clinic Research Institute. The project team would like to thank, Dr. Fred Eichmiller, VP and Science Officer of Delta Dental of Wisconsin, and Matt Crespin and Robbyn Kuester, SDSP adminstrators, for their invaluable input.



For more information, please contact:
Ms. Dixie Schroeder, MBA
Phone: (715) 221-7266
Email