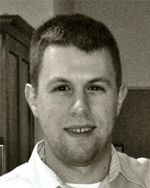 Timothy W. Rhoads, Ph.D.
Oral Health Informatics Postdoctoral Fellow
Email
Dr. Timothy Rhoads was a NIDCR funded post-doctoral fellow in oral health informatics and was jointly trained by the Computational and Informatics in Biology and Medicine program at University of Wisconsin-Madison and the Institute for Oral and Systemic Health at the Marshfield Clinic Research Institute. Dr. Rhoads worked under the mentorship of Dr. Joshua Coon, Dr. Sanjay Shukla and Dr. Amit Acharya. Dr. Rhoads developed methods to interrogate the proteome of the oral microbiome for biomarker discovery, as well as computational methods to combine such molecular data with clinical phenotypic data to enhance diagnosis and treatment of oral and systemic diseases.
Dr. Rhoads received his Ph.D. from Oregon State University in biochemistry and biophysics in the summer of 2012. Dr. Rhoads's research interests lie in using mass spectrometry and quantitative proteomics to answer clinically-relevant questions in biochemistry.