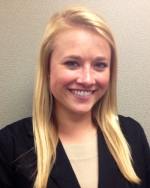 Nicolette (Nikki) Klucas
Intern, Wisconsin's Area Health Education Center (AHEC) Community Health Internship Program (CHIP)
June 2013 - July 2013
Nikki, a native of Crystal, Minnesota, received her Bachelors of Science degree in Pharmacology-Toxicology and Biology from the University of Wisconsin-Madison in May 2014. She is currently a second year dental student at Marquette University.
Klucas' research project concentrated on the development and evaluation of patient education modules that focus on the oral-systemic connection. She obtained feedback on a current draft of the periodontal disease-diabetes video module, analyzed results, and created a set of actionable items with which a final version of this module was produced. Nikki also conducted preliminary literature review and data collection for the development of a subsequent module focusing on periodontal disease and adverse pregnancy outcomes.
Klucas' abstract was accepted by the American Dental Education Association (ADEA) and presented at ADEA's national conference in March of 2014.