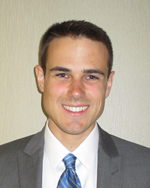 David Kirkhoff
Intern, Summer Student Internship Program, Marshfield Clinic Research Institute
May 2014 - August 2014
David, a native of Cambridge, Minnesota, is a 2015 graduate of St. Olaf College in Northfield, Minnesota. He holds a Bachelor of Arts in Biology. He is a pre-doctoral research fellow at the University of Minnesota School of Dentistry and will begin his formal dental education there in Fall 2015. Kirkhoff's research project at Marshfield Clinic focused on dental hygienists' needs during soft tissue charting.