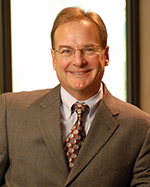 David Gesko, D.D.S.
Presiding Officer
Expertise: Clinical Care and Policy Domain
David Gesko, D.D.S., is the Dental Director and Senior Vice President for HealthPartners. In addition to his administrative responsibilities, he is a practicing dentist in the HealthPartners Clinic system. HealthPartners is an integrated, not-for-profit, consumer-governed health system based in Minnesota providing both plan (insurance) services along with the entire spectrum of care delivery including medical and dental care. Presently, HealthPartners serves over 1.5 million members.
Dr. Gesko is passionate about integrating medical and dental care and applying growing evidence-based research to care delivery. "There is significant evidence linking oral health and overall health. As an integrated organization, HealthPartners holds a key role in exploring this relationship and managing the members and patients we serve to deliver optimal overall health." He serves on several national organizations focused on improving quality in oral health. He is on the advisory panel for the Center for Oral Health and currently chairs the Center for Oral and Systemic Health sponsored by Marshfield Clinic in Marshfield, Wisconsin. Both of these groups are working to build national consensus on guidelines for prevention and disease management in oral health care and to facilitate implementation of those guidelines into the care, policy, and financing systems. In 2012, Governor Mark Dayton appointed Dr. Gesko to a four-year term as a board member for the Minnesota Board of Dentistry. Currently, he serves as President of the Board.
Read more about Dr. Gesko here