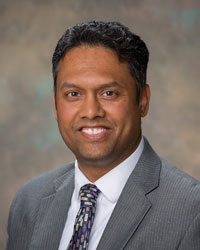 Amit Acharya, BDS, MS, PhD
715-221-6423| Email
-or-
715-389-3140 (Executive Secretary) | Email
Executive Director
Marshfield Clinic Research Institute

Dr. Amit Acharya has been a leading researcher and is well-regarded throughout the U.S. on his expertise in biomedical and dental informatics. As a general dental surgeon and a computer scientist with expertise in the field of biomedical informatics, Dr. Acharya's research focus has been in the area of applied clinical informatics focusing on integration of medical and dental data, clinical and research information systems, design and architecture of electronic health records, developing clinical decision supports and investigating the oral-systemic relationship between periodontal and systemic disease such as diabetes, cardiovascular and respiratory diseases.
Dr. Acharya completed his Bachelor of Dental Surgery from Bangalore University, India in 2000 after which he practiced clinical dentistry as a house surgeon and a dental officer. He then completed his Masters in Computer Science from Western Kentucky University, KY in 2004 moving on to completing his Doctoral in Biomedical Informatics from University of Medicine and Dentistry in New Jersey, NJ in 2010. He also pursued additional training in leadership strategies for information technology in health care from Harvard School of Public Health, Boston. Before moving to Marshfield Clinic in 2010, Dr. Acharya served as a Visiting Scholar at the Center of Dental Informatics, University of Pittsburgh.
Dr. Acharya's desire to pursue the field of health information technology and informatics developed due to a desire to bridge the gap between medical and dental care. With over a decade of experience in the field of health information technology, health informatics, dentistry and oral-systemic research, Dr. Amit Acharya brings valuable insight in his new role as the Executive Director of the Marshfield Clinic Research Institute (MCRI) at Marshfield Clinic. In his current role as the Executive Director of MCRI, he hopes to utilize his expertise in developing research information systems, addressing the workflow and process improvement of activities supporting research as well as facilitating the translation of research results into clinical care.
He subsequently serves as the Chief Dental Informatics Officer (CDIO) of the Family Health Center (FHC) at Marshfield Clinic. FHC is a federally qualified health center (FQHC) and affiliate partner of Marshfield Clinic. FHC provides care to low income, Medicaid and uninsured populations at 19 medical and 10 dental FQHC sites (44 general dentists, 2 oral surgeons and 44 hygienists) in partnership with Marshfield Clinic. FHC provides care to over 50,000 unique patients annually in its dental centers across central, northern and western Wisconsin. In this role, he is responsible for developing the strategic road map and advising specific implementation groups of key informatics and information technology best practices to support patient care, research and educational activities. He is actively involved in development and implementation of effective clinical systems and applications that brings the practice of medicine and dentistry at FHC and Marshfield Clinic closer, contributing to cost reduction and helping streamline the process of delivering healthcare.
Additionally, Dr. Acharya has been instrumental in the founding of the Center for Oral and Systemic Health (COSH) (formerly known as Institute for Oral and Systemic Health) which is one of the six research centers at the Marshfield Clinic Research Institute (MCRI), the integration of Marshfield Clinic's electronic dental record with its propriety electronic medical record and the establishment of one of the very few oral health informatics postdoctoral fellowship programs in the nation. Dr. Acharya places a strong emphasis on education and the development of the future research workforce. He served as the Program Director of this NLM/NIDCR funded Oral Informatics Postdoctoral Fellowship program at MCRF (in collaboration with University of Wisconsin-Madison) from 2012 - 2017. He serves on the Management Committee of UW-Madison's Computational and Informatics in Biology and Medicine program and has mentored several graduate students and postdoctoral fellows as part of this program. Marshfield Clinic along with UW-Madison is one of the only three institutions in the nation to offer post-doctoral training in dental informatics training.
Dr. Acharya has published over 100 scientific abstracts and manuscripts in national and international peer-reviewed journals. He has also edited a book titled, 'Integration of Medical and Dental Care and Patient Data' which was published by Springer. He was invited to serve on the 2012 American Medical Informatics Association (AMIA) Scientific Programming Committee (SPC). He has received multiple grant funding dedicated to bridging the medical and dental divide throughout the course of his career.
Dr. Acharya has held several national leadership roles including secretary, chair-elect and chair of the American Dental Education Association's Dental Informatics Section; co-chair elect and co-chair, American Medical Informatics Association's Dental Informatics Work Group. He also currently serves as the chairman of the clinical informatics sub-committee of the American Dental Associations' (ADA) Standards Committee for Dental Informatics and is the ADA representative to the Health Level Seven (HL7). Dr. Acharya also serves as a member on the advisory board of the National Center for Community Health Research and ADA Dental Quality Alliance's Implementation and Evaluation Committee. He has served on national HIT expert panels coordinated by entities like Agency for Healthcare Research and Quality (AHRQ), Office of the National Coordinator (ONC) for Health Information Technology and National Quality Forum (NQF).
He is a proud father to two girls (Anoushka and Mihira) and a black lab Labrador retriever (Olive). He enjoys traveling and cooking with his wife, Rohini. He is a strong advocate for child health and volunteers with the Children International Organization, which is dedicated to fighting poverty and supporting children in need in poor and developing countries.