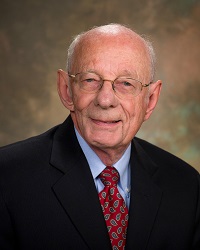 Frederick J. "Fritz" Wenzel
715-389-7480
Executive Director - Interim
Marshfield Clinic Research Institute

Frederick J. "Fritz" Wenzel, who has a national reputation in research, leadership, health care policy and education as well as a passion for this organization, served on Marshfield Clinic's National Advisory Council from March 1999 to October 2005 and then joined the MCHS Board of Directors at its inception in November 2012.
Fritz was instrumental in the birth and growth of Marshfield Clinic Research Institute (MCRI) and has just been named its interim director for the next six months. In this position, he will help move MCRI strategy forward and identify a more permanent leader.
This Marshfield native is a graduate of the University of Wisconsin-Stevens Point and University of Chicago and began his career in medical research. He was the first executive director for Marshfield Clinic Foundation for Medical Research and Education and then became Marshfield Clinic executive director in 1976. Under his leadership, the Clinic established a regional system, health maintenance organization and community health center.
In 1993, he became CEO of the Medical Group Management Association and traveled throughout the U.S. discussing physician management and health policy. Fritz joined the faculty of the University of St. Thomas in the Twin Cities and co-founded the university's Healthcare Management MBA Program. He is a visiting professor at the College of Business, University of Colorado, Denver. Fritz continues to teach and serves on boards for Fairview Physicians Associates, Health Quality Partners, University of Wisconsin Medical Foundation and Avanta Health.
He is a Fellow in the American College of Medical Practice Executives and author or co-author of over 100 publications; and co-author of two books on health care leadership.